by Ephraim Chirwa and Andrew Dorward
Oxford University Press
September 2013
This book is available as an Open Access pdf.
Agricultural input subsidies have been adopted on a large scale across different African countries in the last few years. However global experience with input subsidies has been mixed, and there is considerable concern that current input subsidies will turn out to be expensive political programmes with very limited development benefits. There is, however, also considerable enthusiasm for new, 'smart' approaches in subsidies' delivery and for their potential to raise the productivity of millions of poor smallholder farmers and lift them out of poverty while promoting wider food security.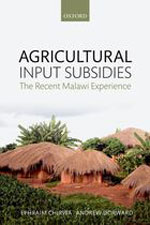 This book takes forward our understanding of agricultural input subsidies in low income countries. A review and extension of current thinking on the potential roles of such subsidies provides the basis for a broad examination of recent documented experience in different African countries and then for: a detailed examination of Malawi's current agricultural input subsidy programme, the main focus of the book. This large programme has been the subject a very considerable international debate, much of it unfortunately little informed by the substantial amount of information available on the programme. Drawing on their extensive involvement with the programme over many years and on a wide range of information sources, the authors provide a detailed analysis of the historical, political and agro-economic roots and context of the programme, and its implementation and impacts from 2005 to 2011. Of interest in its own right, this also provides critical insights into the potential benefits and risks with such programmes, and on political and technical issues that are critical in success or failure.
Hard copies of this book are available to buy from the Oxford University Press website, website, priced £55.
The book is also available as a download: Open Access version (pdf)
File: Chirwa and Dorward - Malawi input subsidies book OUP.pdf