{jathumbnail off}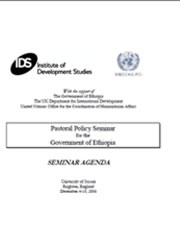 Professor Jeremy Swift specialises in the development of pastoral economiesin Africa, the Middle East and Central Asia. His particular interests include;
poverty,
famine,
land tenure and
pastoral governance.
Pastoral policy-making has lagged far behind other policy domains mainly because pastoralism has been widely misunderstood and ignored by policy makers.
Pastoralists' own economic and social strategies have often been considered irrational, and in need of radical change. This opening session of the seminar will look at key aspects of pastoral policy and open the debate – to be explored in detail during the rest of the seminar – about what policies might be appropriate, feasible and effective.