By Ian Scoones and John Thompson
12 February 2009
Our mission: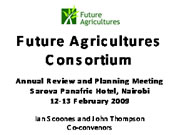 "to encourage dialogue and the sharing of good practice by policy makers and opinion formers in Africa on the role of agriculture in broad based growth". But aren't others doing this? CAADP (with the legitimacy of an international governmental process) and AGRA, IFPRI and others (with lots of money)…..likely to be others, So where do we fit?, What do we do that is different?
FAC niche
A diverse partnership
Dialogue and deliberation – opening up the debate.
Embedded in local settings – but linking to the wider debates
Independent, flexible, agile, responsive.
Able to challenge, critique and confront
Communications – linking findings to wide audiences
Relationship with DFID – bridging research and policy.
{jathumbnail off}{jcomments off}