By Stephen Devereux and Bruce Guenther
January 2009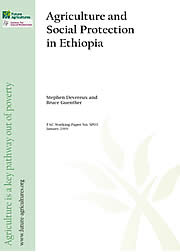 Agriculture and social protection in Ethiopia are inextricably interconnected. Smallholder farming is the dominant livelihood activity for the majority of Ethiopians, but it is also the major source of vulnerability to poverty, food insecurity and their often fatal consequences– chronic malnutrition, premature mortality, recurrent famines. Ethiopian farmers have been the recipients of enormous volumes of food aid and other humanitarian assistance over recent decades, to such an extent that emergency relief has become institutionalised within government structures and donor agency country programmes.
The discourse surrounding the complex relationship between agriculture and social protection in Ethiopia can be approached from either perspective. From the agricultural policy perspective, the government's unshakeable belief in the centrality of farming as the backbone and potential source of growth for the Ethiopian economy is mirrored by its almost ideological view that land is the ultimate 'safety net' for rural households, who should therefore be protected against losing their access to land – by being prevented from selling it.
From the social protection perspective, awareness that able-bodied farmers are the main'beneficiaries' of safety nets and humanitarian food aid has fuelled the government's visceral fear of creating 'dependency' in rural communities, which in turn explains the predominance of public works projects as their preferred delivery mechanism for food aid, as well as recent shifts in safety net thinking towards cash transfers rather than food aid, with predictable multi-annual transfers expected to lead to 'graduation' within a defined time period.
{jathumbnail off}{jcomments off}