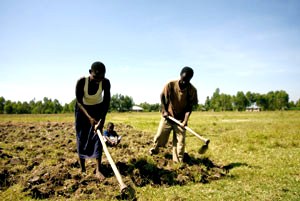 Over the last four decades there has been much emphasis on women and gender in African agriculture and agricultural policy.
There has also been plenty of talk about the importance of integrating social relations analysis into policy to achieve equitable, broad-based development in Africa. However, in large part this has not yet happened. Why?
In a recent FAC paper, Christine Okali, the moderator of this e-debate, argued that a social relations approach leads to more ambiguous interpretations of and expectations around social and technical change. This presents a challenge to research, development and policy actors given that policy narratives need to reign in complexity in order to provide clear guides for decision-making. Nevertheless, unless insights from the analysis of social relations begin to inform policy processes, and are integrated into policy recommendations, the dual goal of agricultural growth and equity will remain unachievable.
There is urgent need for an exchange of ideas and information to address how to make social relations analysis more accessible to and accepted by policy makers. For this reason FAC is inviting you to debate some key issues around the ways forward for achieving this.
Objective: The purpose of this debate is to explore the implications of different insights from and approaches to social analysis for agricultural policy formulation. This is a necessary step in future research planning, especially for the identification of information needs, but also for the translation of research results for policy making at different levels.
Dates: 30 May – 24 June 2011
Questions to be debated:
How has the social construction of different groups e.g. women as vulnerable, responsible for household food security, and without agency or power, affected their opportunities to contribute to and/or benefit from mainstream agricultural policy?
What are the likely policy implications of the understanding that men and women take their joint concerns about household survival into consideration when assessing the trade-offs between e.g. investing in land improvements and engaging in off farm opportunities and other interventions?
How do different kinds of households and wider kin groups incorporate terms of land access into their short and long term livelihood strategies, and what are the implications of this for land policy?
What are the pathways for linking outcomes of social relations analysis with the productivity and production outcomes of interest to policy?
Comments should be short, provocative and challenging. Comments should be submitted on our online forum which will be available from 30 May.
Background Reading
C. Okali, 2011. Discussion paper on 'Gender and Other Social Differences: Implications for FAC'
FAC Policy Brief, 2011 'Integrating Social Difference, Gender and Social Analysis into Agricultural Development'
S. Razavi and C. Millar. 1995. 'From WID to GAD: Conceptual Shifts in the Women and Development Discourse', UNRISD Occasional Paper 1, Geneva. UNRISD.
Jackson, C., 2007. Resolving risk? Marriage and creative conjugality. Development and Change, 38(1), pp.107-129.
Berry, S., 2009. Building for the future? Investment, land reform and the contingencies of ownership in contemporary Ghana. World Development, 37(8), pp.1370-1378.

 

Yngstrom, I., 2002. Women, wives and land rights in Africa: Situating gender beyond the household in the debate over land policy and changing tenure systems. Oxford Development Studies, 30(1), pp.21-40.