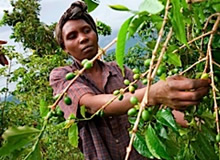 The Kenya country team convened  a farmers' meeting to talk about the challenges facing agriculture with a view to include local farmer voices in two specific areas:
Post-Salzburg 'African Green Revolution' strategic recommendations
Input into GCARD for the future of agricultural research
The rationale was to draw out farmers voices on issues of research and governance through this national workshop series. The workshop drew on the strategic recommendations made at the May 2008 "Towards an African Green Revolution" conference in Salzburg, Austria and made use of outputs from a recent African consultation for GCARD – the Global Conference on Agricultural Research for Development – in Montpellier, France (28-31 March 2010).  The workshop was attended by 35 participants, mainly smallholder farmers and youths, drawn across the Kenya's agricultural sector (crops, livestock, fisheries and co-operatives).