APRA researcher questions Malawi's approach on poverty reduction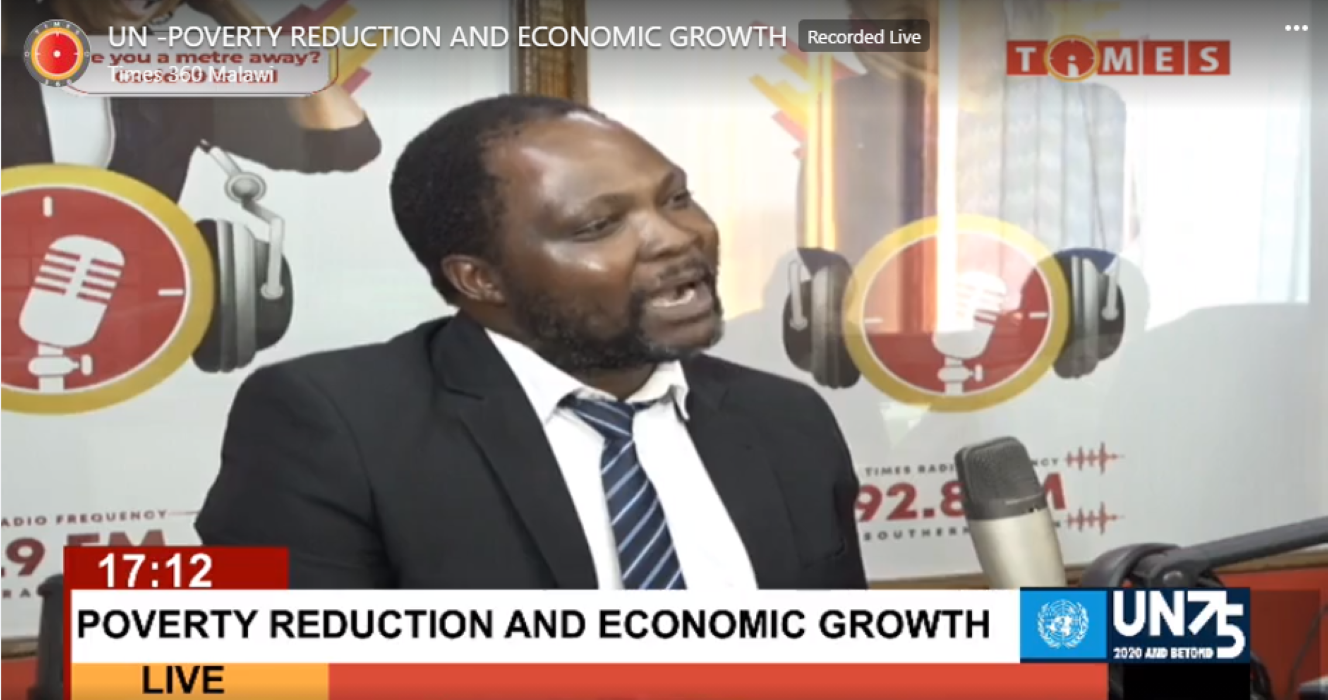 Following two widely-circulated media stories on a hard-hitting policy brief on agribusiness investment, and a report on how COVID-19 is affecting food systems and rural livelihoods, the Agricultural Policy Research in Africa (APRA) Malawi team have engaged with the press on their research activities once again.
APRA researcher and member of Economics Association of Malawi, Dr Jacob Mazalale, hosted a live radio and television dialogue program on November 5, which featured poverty reduction and economic growth. The live debate took place on leading media house in Malawi, Times Radio and Television, and was streamed live over Facebook. Together with listeners and viewers, the program questioned how Malawi as a country has performed in reducing poverty and where we would like to be in 2045.
Dr Mazalale set off the debate by explaining that various strategies have been employed to reduce poverty since independence in Malawi with little progress. In some areas, Malawi has done well but poverty largely remains entrenched – there is hunger, food insecurity, and not all children, are in school, for example. If Malawi does not change its approach to development in the next 25 years, the proportion of Malawians in poverty will increase and the extent of depravation will become severe. He emphasised the need to change the way we do things to eradicating poverty and achieve economic growth.
He also stressed the need to rethink our agricultural development policies since it is the mainstay of the economy and where many obtain their income. In addition, if agriculture is fully nurtured, it will have spill over effects in other sectors of the economy.
Other key factors he mentioned were:
Hand-hoe to mechanised farming is a key transition;
Important to diversify to grow other cash crops besides tobacco, and other food crops apart from maize;
Agricultural marketing – liberalisation of markets and reduced role of Agricultural Development and Marketing Corporation (ADMARC) has seen proliferation of vendors that trick farmers on prices reducing their profits. Reforming ADMARC is key for it to return to its strategic role, such as the timely purchase of produce from farmers;
Land reform – land usage for those engage in farming as a business (not just living/own food) needs to be redefined. Communities have to discuss how to aggregate their land into bigger parcels for those engaged in agribusiness;
Governance, accountability, transparency is key, and citizens need to participate and demand this from duty bearers (e.g. government). The recent anti-corruption stance by the government, where several corruption cases have been investigated, is an example of this;
Ensuring taxes are fair and equitable with accompanied visible services for the taxpayer;
Experiential education should be given priority that allows young people to go into self-employment other than waiting to be employees.
There is a hope that Dialogues such as this will continue across different media platforms in Malawi to inform the UN global vision with focus on three areas: defining the future we want, looking towards 2045; identifying global megatrends leading the world away from that vision; and ideas for improving global cooperation.
---
To learn more about APRA's work in Malawi, click here.