APRA present at key conference on Nigerian cocoa industry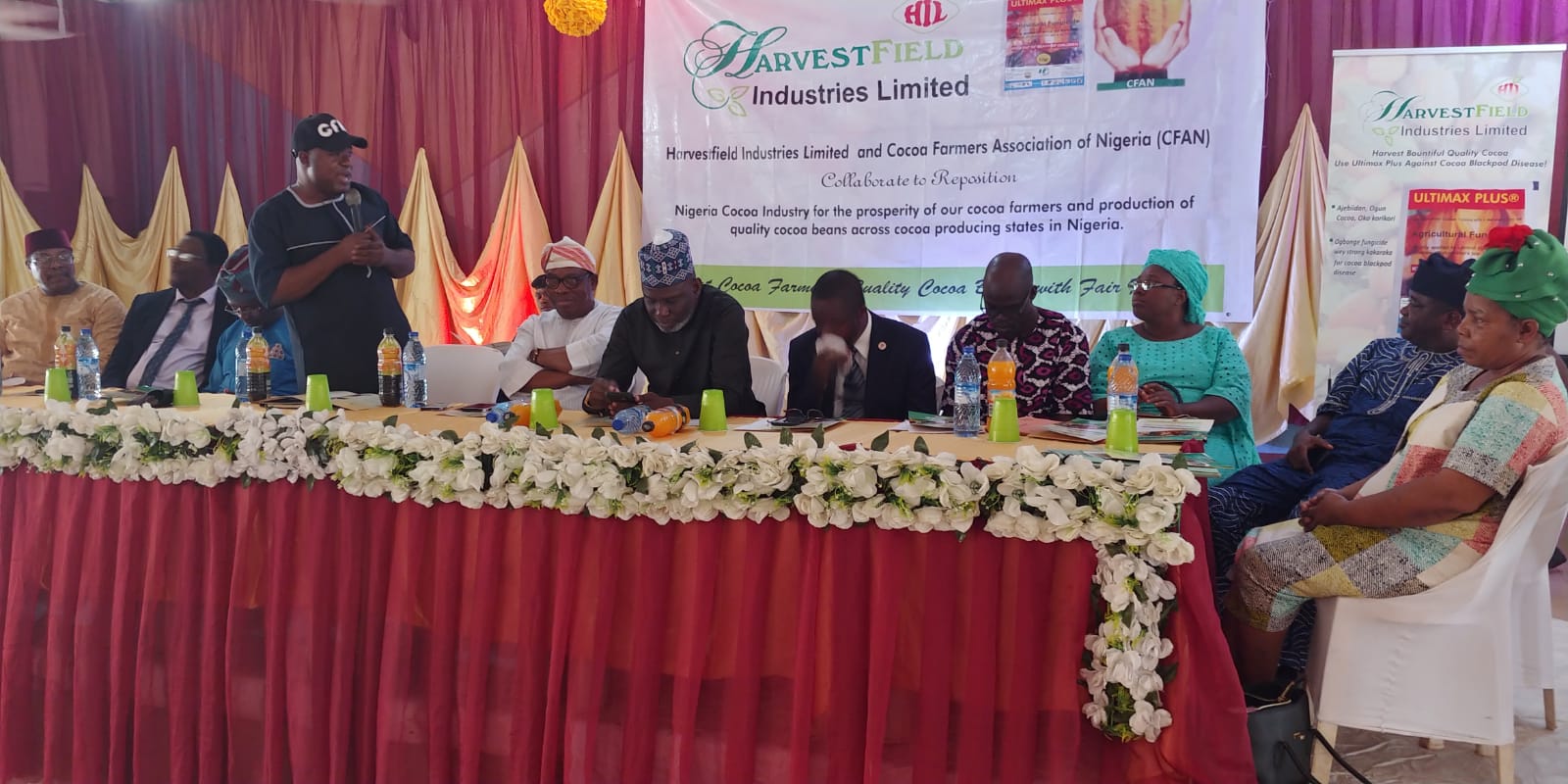 Please note: During this time of uncertainty caused by the #COVID19 pandemic, as for many at this time, some of our APRA work may well be affected in coming weeks but we aim to continue to post regular blogs and news updates on #agricultural #policy and #research.

As the highest cocoa producing state in Nigeria, Ondo State is crucial contributor to the Nigerian cocoa sector. It is no surprise, therefore, that it was chosen to host the latest roundtable conference organised by the Cocoa Farmers Association of Nigeria (CFAN). It is the latest in a series of events that aim to produce grassroots consensus on the adaptability of the Nigerian cocoa industry in the face of new challenges.
These include:
Lack of adequate irrigation facilities to complement the new 2-3 year maturing cocoa varieties that Federal and State governments are releasing at highly subsidised prices.
Inadequate access to agrochemicals in terms of quantity and quality.
Insecure tenure for cocoa farmers, who are often migrants from states different from where their farms are located.
Poor quality dry cocoa beans, largely due to poor post-harvest handling and wet cocoa bean fermentation processes.
Low percentage of youth engagement in cocoa plantation establishment and reluctance of older farmers to expand their farm areas to include more cocoa.
Limited access to extension services for cocoa farmers, meaning that sector operators can't keep track of standard practices in cocoa production and post-harvest handling.
Ageing of cocoa trees together with low planting density.
The conferences were initiated to end the stagnation of the cocoa sector and in response to the failed government-led 'Zero Oil Policy' and 5-year cocoa transformation plan of 2016.
For more on the successful 2019 Ogun State conference, read our blog on tackling the challenges of the stagnating cocoa sector, here.
'Repositioning the Nigerian cocoa industry for the prosperity of its farmers and production of quality cocoa beans across cocoa producing states in Nigeria' was the theme for the Ondo State Cocoa Farmers' roundtable conference, held on 19th March 2020 and attended by over 700 participants, who were mainly comprised of cocoa farmers and press covering the event. There was a sizeable representation from the four major cocoa producing states of Nigeria: Osun, Ekiti, Ogun and Edo.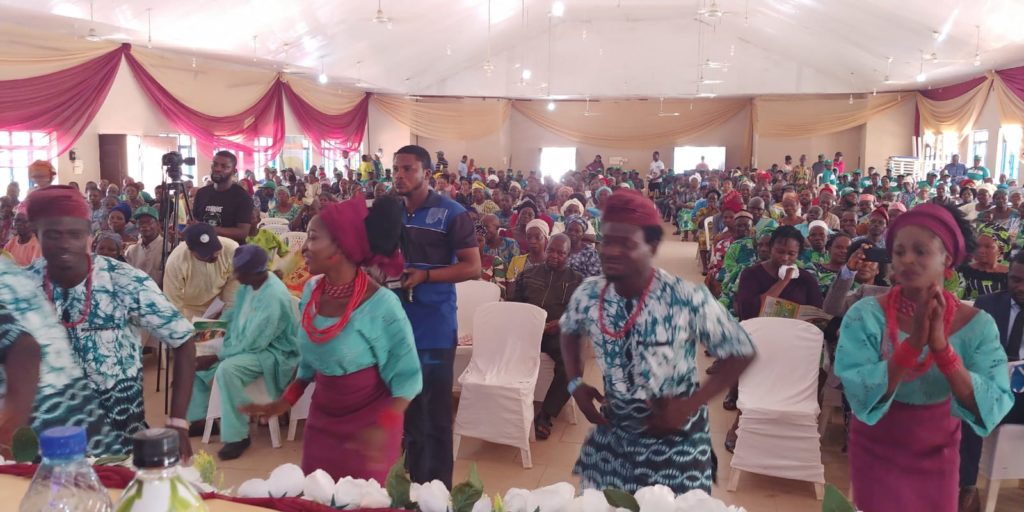 APRA was represented by researcher Adebayo Aromolaran. As lead speaker, he informed participants of APRA's work on commercial agriculture in Nigeria, also highlighting important findings that focused on commercial tree crops – cocoa being the major commercial tree crop in the Ondo State. He then shared important policy implications of those findings, which include:
The need for improvements in all-weather roads linking farms to markets.
Increased access to land markets.
More frequent access to extension services.
Increased access to agro-dealers.
Further details of findings will be included in the upcoming APRA working paper on "Determinants of land allocation to commercial tree crops in Nigeria.".
The conference also enabled APRA to engage with policymakers and implementation agencies at state and federal levels on APRA research activities in Nigeria and share APRA's findings on the causes of cocoa sector stagnation.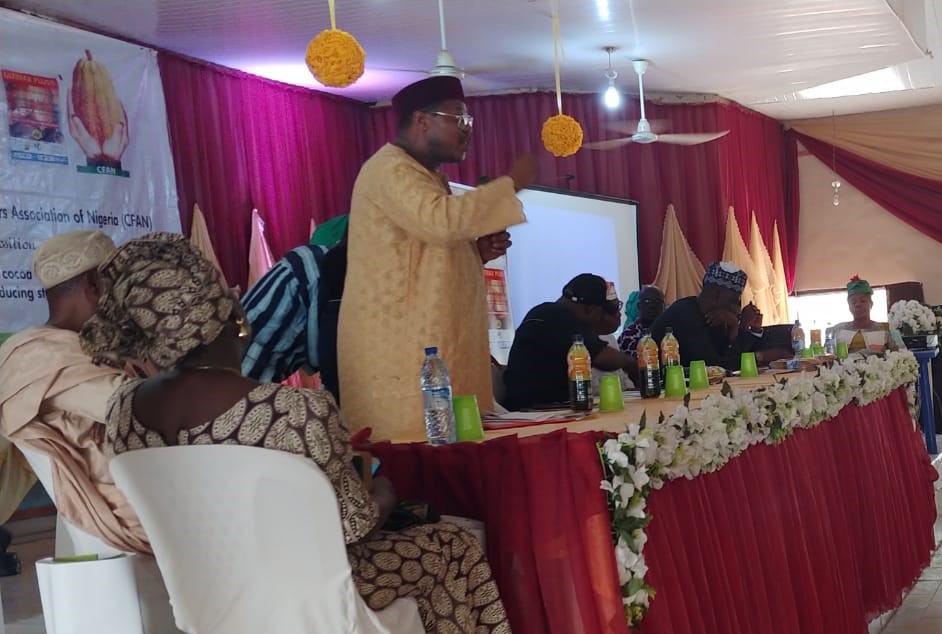 High level participants included: the secretary to the Ondo state government (Mr Ifedayo Abegunde ) representing the state governor, the Ondo State commissioner for agriculture (Mr Gbenga Adefarati ), the Permanent Secretary , Ondo State Ministry of Agriculture (Mr Sanni) , MD, Harvestfield Industries Ltd ( Mr Martins Awofisayo) , President Cocoa Farmers Association of Nigeria ( Comrade Adeola Adegoke) FAN the representative of Central Bank of Nigerian (Mr Christopher Oladokun) , the former Chairman, Ondo State Cocoa Revolution Project ( Dr Jibayo Oyebade) , the representative of the Federal Ministry of Agriculture and Rural Development, traditional rulers etc.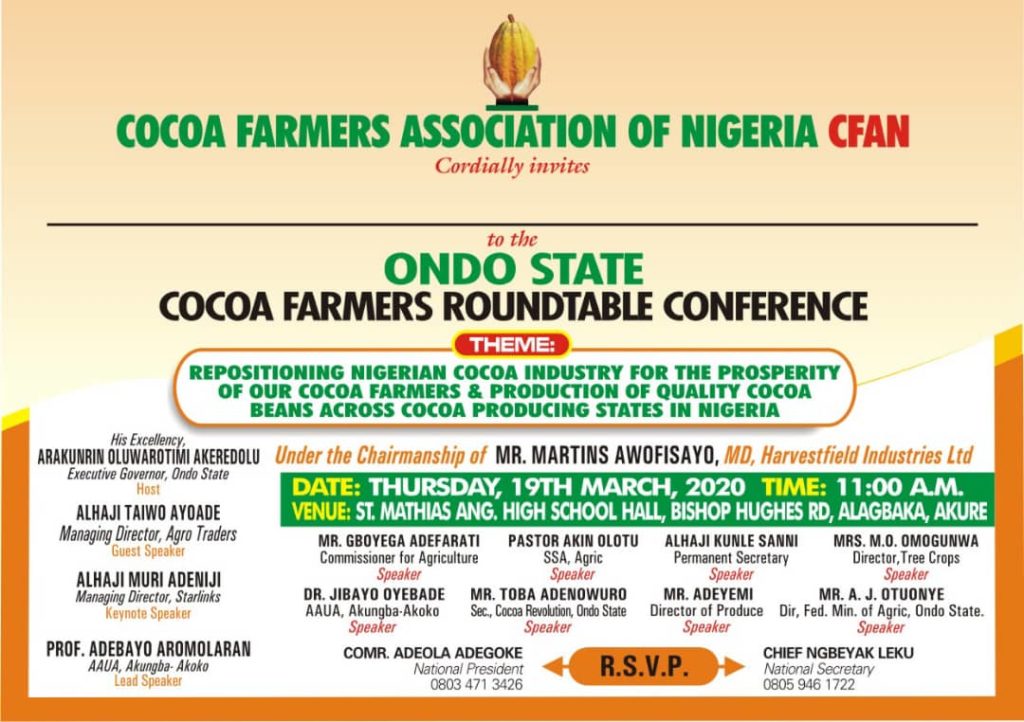 Cover photo: A view of the panel at the CFAN conference.
All photo credit: Adebayo Aromolaran