APRA attends first national rice platform meeting in Ethiopia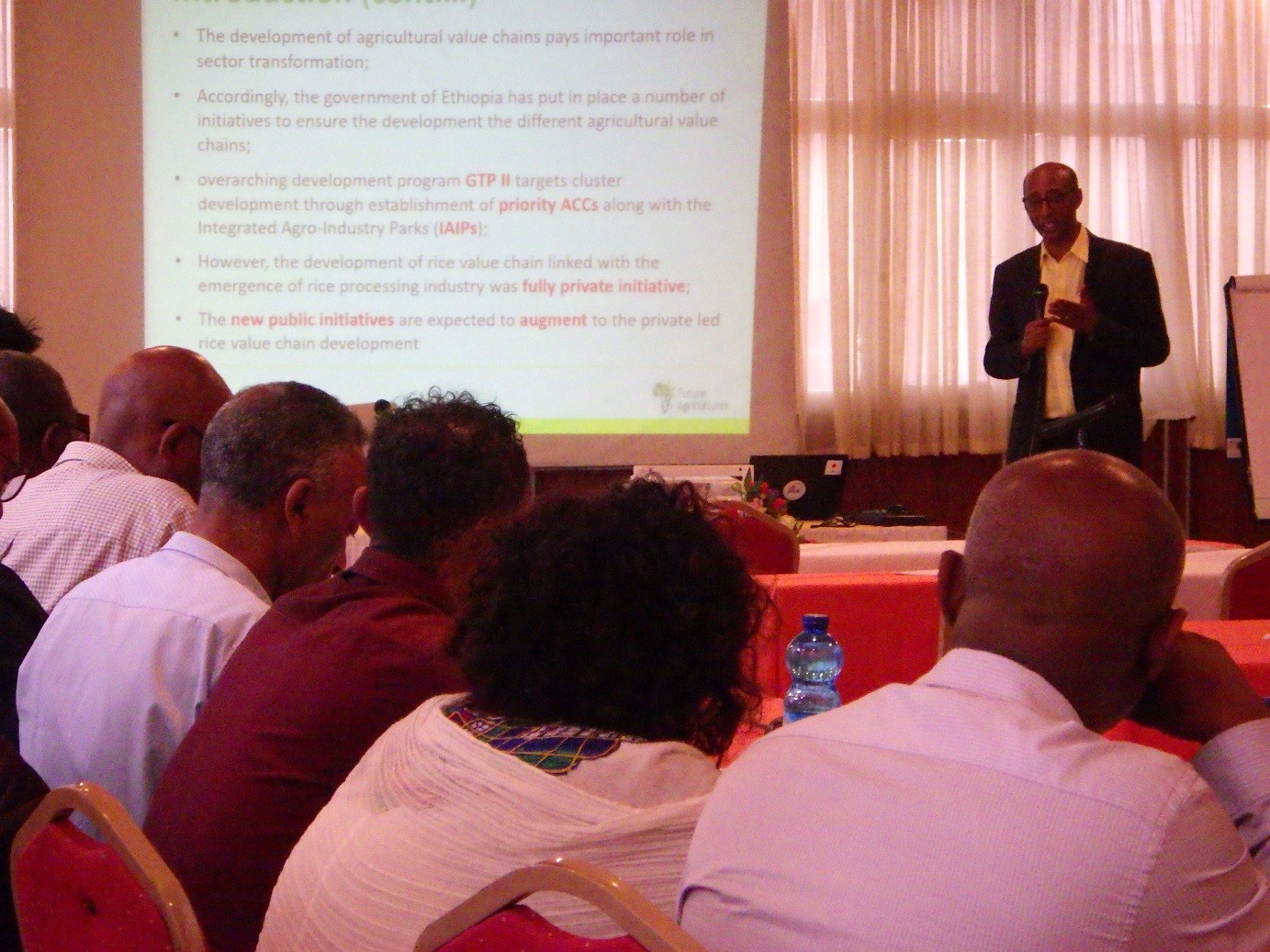 The first National Rice stakeholders' platform was held on March 9, 2020 with the main objective of formally establishing the stakeholders' platform, which is expected to:
Strengthen coordination and advocacy for rice sector development
Facilitate the provision of policy, managerial and technical advisory services among actors engaged in rice value chain to enhance domestic rice production
Facilitate Public-Private Partnership (PPP) for enhanced rice development
Serve as a forum for stakeholders' networking along the rice value chain
The establishment of the platform was initiated by the Ministry of Agriculture with the support of the National Rice Secretariat, EthioRice project, the National Rice Research and Training Center of the Ethiopian Institute of Agriculture (EIAR), and APRA Ethiopia.
Members of the platform are actors in the public and private sector, development partners, NGOs, and farmers' organisations. In the long term, it is expected that the platform will become an independent National Rice Stakeholders' Association (NRSA) and financed by the members with the main objective of pursuing comprehensive rice sector development in the country. In the short term, the Ministry of Agriculture (MoA) will chair the platform alongside the National Rice Secretariat, which is supported by the Japanese Government through JICA.
Participants included representatives of federal, regional, zonal and woreda (district) offices of agriculture where rice is an important commodity. In addition, the event was attended by development partners and NGOs, including Mennonite Economic Development Associates (MEDA), APRA Ethiopia, SG 2000, private processors, processing machine importers, farmers organisations, and rice researchers from EIAR and regional agricultural research institutes.
Presentations were made by Mr Esayas Lema from MoA on the newly approved National Rice Development Strategy (2020 – 2030), Shewaye Abera of EIAR on their contribution to the development of rice sector in the country, and Mr Abebe Haile, a private rice seed producer on the experiences of his company in promoting rice in the West Omo zone of Southern Nations, Nationalities, and People's Region. APRA's Dawit Alemu delivered an overview of rice processors and their contribution to rice sector development, while Mekuria Yemer, gave a presentation on the experience of MEDA in rice promotion in Fogera plain. Finally, Amino Engineering PLC spoke about the role of the private sector in such development.
The panels were facilitated by Mr Germamae Garuma, Director General of agricultural extension directorate of the MoA. To conclude, there was presentation and discussion to allow for a better understanding of the current status of the rice sector in the country, calling for multifaceted engagement and interventions for the sector to develop and to ensure self-sufficiency.
Participants showed interest towards registering as members of the platform, and it was suggested that regular meetings should be held twice a year – before and after the production season. A committee was assigned to draft guidelines in order for the platform to be composed of public and private actors. The platform meetings will also provide a good opportunity for APRA Ethiopia to raise engagement and awareness towards their research outputs.

Written by Dawit Alemu

Cover photo: Dawit Alemu addresses participants at the meeting