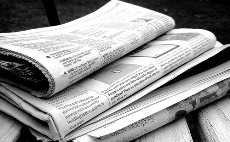 We're delighted to announce the winners of our Africa-wide journalism competition on young people, farming and food.
We had over 40 submissions to the competition. The panel was all agreed in the winning entries according to the following criteria:
1. Creative angle; 2 Concise; 3. Style; 4. Voices/quotes used including young people.
The winners and runners-up are listed below, followed by links to download the print entries and listen to the audio.
Winners
James Karuga, Kenya (print)
Judges' comment: A well balanced and engaging piece with a good range of interviewees and quotes.
Geoffrey Onditi, Kenya (audio)
Judges' comment: A well structured piece with a good range of voices
Second place
Vivian Nereah, Kenya (print)
Judges' comment: Excellent opening with a clear hook that involved young people. Also good use of quotes
Audrey Wabwire, Kenya (audio)
Judges' comment: Nice style and presentation with an interesting angle about film producer turned farmer
Runners-up
Isabella Akinseye, Nigeria (print)
Judges' comment: Memorable and engaging piece
Nicholas Waithatu, Kenya (print)
Judges' comment: Novel and interesting case study on youth in sericulture
Background to the competition
In the run-up to our international conference on Young People, Farming and Food in March, we have run a competition to find the best media reporting in Africa on young people and agriculture.
This competition aimed to encourage young and early career journalists and media specialists (between ages 18-40) to investigate the challenges and opportunities associated with young people's engagement in agriculture, to showcase success stories and best practices that can be replicated, and to raise awareness on the important role of young people in agriculture and rural development.
The competition was open to all media and communication professionals (either print, broadcast or electronic) who are nationals of African states and are from established media houses, private and public sector organisations (e.g. government ministries), and non-governmental organisations including farmer organisations. Either printed or audio entries were invited.
For the terms and conditions, and more general information, download the full details below: