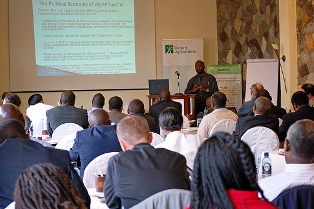 Over 100 papers will be presented 32 panels during the conference. Find the full listing of plenary presentations, all papers, plus panel abstracts here.
International Conference on
Global Land Grabbing
Organised by the Land Deals Politics Initiative (LDPI) in collaboration with the Journal of Peasant Studies and hosted by the Future Agricultures Consortium at the Institute of Development Studies, University of Sussex
6-8 April 2011
Wednesday 6 April
8.30 Registration
9.30 Opening session: Chair, Ruth Hall (PLAAS)
Welcome – Lawrence Haddad, Director, Institute of Development Studies and member of the High Level Panel of Experts of the UN FAO Committee on Food Security and Saturnino (Jun) Borras Jr., International Institute of Social Studies, The Hague and Editor, Journal of Peasant Studies
Keynote address – Olivier de Schutter – UN Special Rapporteur on the Right to Food. He is Professor at the Catholic University of Louvain and at the College of Europe (Natolin), and also a member of the Global Law School Faculty at New York University and Visiting Professor at Columbia University.
Plenary discussion: defining the big questions for the conference.
11.00 Tea/coffee
13.00 Lunch
14.00 Panel session 1
15.30 Tea/coffee
16.00 Panels session 2 (panels 6-10)
17.30 Drinks reception and open space session, video and publications display (IDS Common Room)
19.00 Dinner, hosted by the Future Agricultures Consortium (IDS, Room 120)
21:30 Buses to Brighton depart
Thursday 7 April
10.30 Tea/coffee
11.00 Panel session 3 (panels 11-15)
12.30 Lunch
14.00 Panel session 4 (panels 16-21)
15.30 Tea/coffee
17.30 Book fair: a series of book, report and special issue journal launches over drinks, plus poster and publication displays from different participating organisations.
18.00 – Room SC1/2: Book launch: of Powers of Exclusion: Land Dilemmas in Southeast Asia, Singapore and Honolulu (by Derek Hall, Philip Hirsch and Tania Li) Singapore University Press and Hawaii University Press, 2011.
19.00 Bus to restaurant in Brighton departs.
19.30 Dinner in Brighton hosted by the Journal of Peasant Studies and the Future Agricultures Consortium.
Friday 8 April
10.30 Tea/coffee
11.00 Panel session 5 (panels 22-27)
12.30 Lunch
14.00 Panel session 6 (panels 28-32)
15.30 Tea/coffee
17.00 Closing remarks and thanks – Ian Scoones, Future Agricultures Consortium, IDS,Sussex