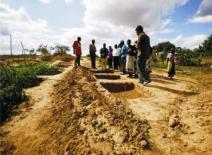 Brasilia, 11 May 2012 – The capital of Brazil will host a high-level event on agriculture and development: the International Seminar on The Role of South-South Cooperation in Agricultural Development in Africa.
For the first time, the event will bring together in Brasilia representatives from African countries, Europe and China, as well as main partners and actors from the Brazilian Government, for a discussion around policy and practices of development cooperation in the agricultural field.
The event will take place on 17 May at the World Health Organization (PAHO/WHO) auditorium in Brasilia, and will be opened by Minister Marco Farani, Director of the Brazilian Cooperation Agency at the Ministry of External Relations (ABC/MRE) and by Mr. Jorge Chediek, Interim Director, IPC-IG/United Nations Resident Coordinator and UNDP Resident Representative in Brazil. The Forum will be hosted by the International Policy Centre for Inclusive Growth (IPC-IG), and co-organised with the Future Agricultures Consortium (FAC) and the UK Department for International Development (DFID), with support from Articulação Sul, the International Cooperation Centre in Agronomic Research for Development (CIRAD), and the United Nations Entity for Gender Equality and the Empowerment of Women (UN Women).
Among the participants of the Forum are representatives from African countries including researchers, civil society, government representatives and regional organisations;  specialists from the United Nations System, particularly Food and Agriculture Organization (FAO) and the World Food Programme (WFP),  as well as authorities from various departments, offices and ministries of Brazil's Federal Government and civil society and the private sector in Brazil.
Main themes
Among the main themes of this international discussion, we highlight the following:
Brazilian international development cooperation: new paradigm for agricultural development in Africa?
Agriculture, climate change and inclusive growth in Africa: what are the perspectives for South-South cooperation?
The role of Brazil and China in Africa: what are the similarities and differences in South-South exchange?
Expectations
The main goal of the forum is to identify the emerging issues to formulating an action plan for South-South cooperation, focusing in new policies for agricultural development in Africa, while considering the challenges in promoting inclusive and sustainable development.  Bearing this in mind, the forum will be structured in a way in which participants can have access to a wide range of international experience, through the exchange with actors directly involved in cooperation activities in the agricultural field.
The event represents a unique space for debate among the various actors from the agricultural development field, bringing perspectives from central governments, demands from civil society organizations, and experiences from local managers and international organizations as well as results from recent research and analysis from the United Nations.
Venue and press information
The Role of South-South Cooperation in Agricultural Development in Africa
Venue: Auditório da Organização Mundial da Saúde (OPAS/OMS) – Setor de Embaixadas Norte (SEN), Brasília – DF
Date: 17 May
Press contact:
Francisco Filho, IPC-IG
E-mail: francisco.filho@ipc-undp.org
Telephone: +61 2105 5036