Research Papers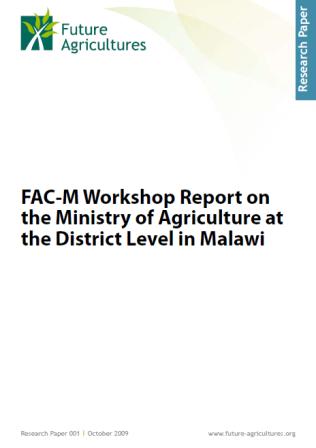 The Research Paper series reports findings to the research community. It is intended to contribute new analysis to agricultural issues in Africa and FAC publishes five to ten Research papers annually.
Latest articles
March 1, 2010 / Research Papers
Booker W. Owuor, Job O. Ogada, Colin Poulton, and Gem Argwings-Kodhek
June 2010
Agriculture is the backbone of Kenya's economy. Well managed, agriculture can be the single source that will spearhead the economy and alleviate poverty among the over 80 percent of Kenya's population dependant on it. The sector has been fragmented into 10 ministries that all came out of a large Ministry of Agriculture (MoA) that is still seen as the parent Ministry and is viewed as the main player in the sector. This study was aimed at gaining a better understanding of how the sector is managed, and to critically examine the structure, capacity and coordination capabilities of the Ministry of Agriculture in Eldoret West District.