Policy Briefs
The Policy Brief series was launched by Future Agricultures in 2005 to provide a forum for the analysis of important agriculture policy issues by leading researchers. The series aims to identify key issues, apply the best and most up-to-date research to help understand these issues, and explore the implications of this research for the design and conduct of policy. We typically publish between 8 to 10 Policy Briefs each year.
A significant number of our policy briefs are also translated into French.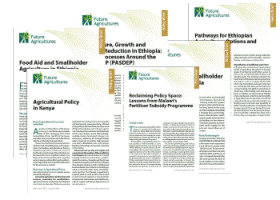 Latest articles
March 17, 2011 / Policy Briefs
Pastoralist areas of the Horn of Africa are experiencing rapid change. Markets are opening up, helping to improve livelihoods and generate substantial new wealth for local and national economies. Political and constitutional changes are creating opportunities for pastoralists to influence decision-making around the allocation of public resources as well as laws and practices affecting their rights. New technologies such as mobile phones as well as improvements in roads are opening up pastoral areas to greater movements of people, goods, and ideas. And new ways of delivering services to mobile and remote pastoralist populations have improved their access to healthcare, veterinary services and education.