Policy Briefs
The Policy Brief series was launched by Future Agricultures in 2005 to provide a forum for the analysis of important agriculture policy issues by leading researchers. The series aims to identify key issues, apply the best and most up-to-date research to help understand these issues, and explore the implications of this research for the design and conduct of policy. We typically publish between 8 to 10 Policy Briefs each year.
A significant number of our policy briefs are also translated into French.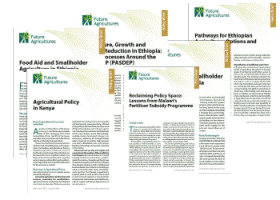 Latest articles
April 11, 2012 / Policy Briefs
Policy Brief 46
by Blessings Chinsinga
This FAC Policy Brief examines the political economy of input programmes and identifies maize and input subsidies as central to agricultural political debates. Subsidy programmes that are centred on the supply of seed and fertiliser to support maize production to boost national food security have created a strong actor network including key government players, major donor aid agencies and Non Governmental Organisations (NGOs). In recent years, this has created a unique and highly contested political economy of seeds in Malawi. Notwithstanding the strong narratives about national food security or public food aid, the benefits of both national and donor-led subsidy interventions are unevenly distributed, most to the benefit of elites. Moreover, international commercial seed sector players, pushing their patented genetic material, have won out in agricultural policy over local producers and varieties, again to the profit of local elites.