Ogun State community meetings push for policy on medium-scale farming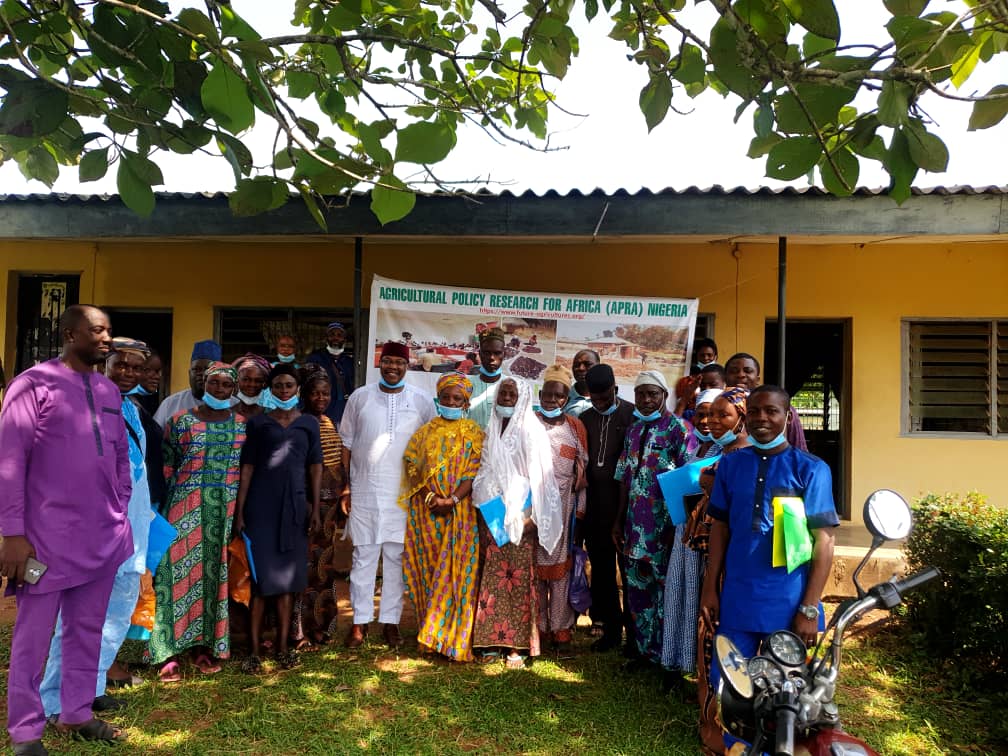 Written by: Adebayo Aromolaran
---
Following the conclusion of their research into the opportunities and challenges of medium-scale farming as a pathway to inclusive agricultural commercialisation and improved livelihood outcomes for farming families across Nigeria, researchers on the APRA Nigeria Work Stream 1 (WS1) team have been engaging farmers, community leaders and policymakers to discuss the findings of its studies. These engagements have included dissemination events in Kaduna State and, even more recently, two stakeholder meetings in Ogun State held at the palace of His Royal Majesty, the Onimeko of Imeko on 22 November 2021 and in Ijebu East local government headquarters, Ogbere on 23 November 2021. These events have been held with the aim to share findings and develop policy insights, and include in that process those with the ability to incorporate the findings into actionable policy measures, as well as those impacted by any resulting policies.
---
Presentation of study findings
The APRA Nigeria country coordinator, Professor Adebayo Aromolaran, led the presentation of the team's findings during the Ogun State meetings. During his presentation, Prof Aromolaran emphasised that "APRA is focused on working with key Nigerian stakeholders in agricultural and rural development to identify strategies to improve the livelihoods of farm families, women, and youth across Nigeria by providing research-based evidence to support the need for concrete changes in the food and agricultural systems of Nigeria."
Professor Aromolaran highlighted the key finding of this study: that medium-scale farms could potentially create more farm and off-farm employment opportunities than small-scale farms, as a result of higher productivity. In addition to identifying the significance of medium-scale farms' production potential, the research highlighted their potential in collaboration with their small-scale counterparts. "The study found," he reported, "that interactions of medium-scale farms with small-scale farms could increase the productivity and incomes of small-scale farms and reduce poverty among small-scale farm households."
In addition, a few small-scale farms in the state have 'stepped up' to medium-scale farming, while small-scale farmers who interacted with medium-scale farms in their neighbourhoods enjoyed higher prices for their products. In response to these findings, Chief Ismail Abdulazeez, a farmers' association leader enthused that, "more effort should be directed at upgrading farmers from small-scale to medium-scale level. This would improve the welfare of small-scale farm families, as shown by the study findings."
As well as the researchers' findings of medium-scale farms' potential, Professor Aromolaran noted that increased access to extension services could also play a role in enhancing agricultural commercialisation. In the same vein, Ms Nike Tinubu, the CEO of Premium Cassava flour in Ijebu-ode, Ogun State, and a member of APRA Nigeria WS1's Advisory Board, spoke to participants on how they can benefit from her company's programme on off-take and agro-input supplies for cassava farmers.
Discussion of study findings
After the presentation of the study findings, the participants were divided into groups to discuss the issues raised in the meeting, as well as to recommend the specific roles that the government, private sector, and communities can play in addressing these issues. In response to the findings on extension services, Ijebu Zone's Extension Manager, Mrs Caroline Akinyemi, noted that, "to make extension services more effective, there is a need to substantially increase the staff strength in the public extension system with younger workers, since many extension staff are nearing retirement age and need replacement."
This was one of many responses to the WS1 team's findings by those in attendance, highlighting the importance of such community engagement in research. Once study findings are shared with individuals in positions to comment and act on their implications, the research is better able to achieve its potential to influence policy and improve the lives of those affected by it.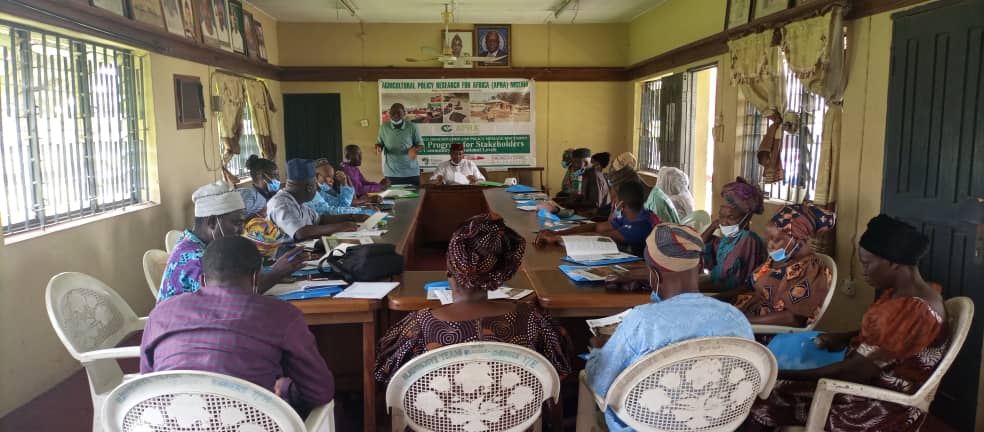 Recommendations
The meeting recommendations can be summarised in three key points:
There is need for inclusive agricultural commercialisation and its influence on the welfare of farm households.
There is need for a policy to expand on the growth of medium-scale farms to increase inclusive agricultural commercialisation and improve the livelihoods of smallholder farmers in Nigeria.
There is a need to increase access to labour and land markets, extension services, all-weather roads, and agro-dealer services, given that they are major drivers of agricultural commercialisation in Nigeria.
Conclusion
The outcome of this meeting will inform a national stakeholder meeting, which is planned for 16 December, 2021. In his final remarks, the Executive Chairman of the Ijebu East Local Government, Honourable Wale Adedayo, expressed his eagerness to participate in the upcoming national stakeholders meeting. He commended APRA's efforts to disseminate its findings to influence the implementation of polices, which can move many farm families in Nigeria out of poverty.