The conference was organized by FAO in partnership with the Institute for Poverty, Land and Agrarian Studies (PLAAS), Future Agricultures Consortium, the Land Policy Initiative (LPI), African Union, African Development Bank and United Nations Economic Commission for Africa. The event was co-sponsored and supported by Omidyar Network, IFAD, Eastern and Southern Africa Ford Foundation offices, and the International Land Coalition.
This was the first conference on land-related agriculture investment and inclusive business that focused specifically on gender issues. Although nowadays there is more openness and willingness to promote gender equality and women´s empowerment in the agriculture sector, so far limited attention has been devoted to understanding how agricultural investments affect differently women and men.  In his opening speech Tobias Takavarasha (photo above), FAO Representative in South Africa highlighted that "when agriculture investments are implemented, women are often disadvantaged in terms of access to wage labor and contract farming opportunities, participation in consultations and decision-making around land, and compensation schemes. Given the crucial role that rural women play in agriculture, no substantial improvements in poverty reduction and food security can be reached if women are left out".
Bringing together the latest research findings on the implications of agriculture investments on different groups of rural dwellers, the conference highlighted good practices and promising approaches for equitable and inclusive investments models and showcased examples that can benefit impoverished rural women and men.
The Conference was not just a debate going over research insights. It offered a space where representatives from different African countries and a wide range of sectors could openly share their perspectives, experiences and ideas on why putting gender equality at the centre is essential for achieving positive and sustainable development outcomes. About 130 representatives (see photo left) from producers' associations, private enterprises, government, civil society, academia, international NGOs and philanthropic organizations discussed challenges and opportunities related to investment models, corporate social responsibility practices, contractual arrangements, partnerships and policy frameworks in order to foster sustainable win-win options.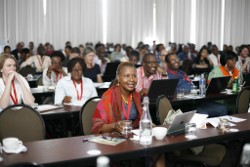 Lively discussions on the roles and responsibilities of the various stakeholders took place both in multi-stakeholder and sectorial working group sessions. The Conference participants developed recommendations for each sector (government, civil society groups, farmer associations, the private sector, researchers and non-governmental organizations) to make concrete steps towards ensuring more equitable and gender-sensitive agricultural investments.
There was a broad consensus among the participants, that in order to put in place sustainable, inclusive and gender-equitable investments models that work and can be upscaled strong collaboration and partnerships among actors is necessary. In this context, NGOs and producers' organizations were identified as strategically equipped to facilitate mutually beneficial relations between private enterprises and female and male small producers. Moreover, participants highlighted the importance of creating spaces and mechanisms in which interactions and dialogue among stakeholders take place, while at the same time ensuring that the interests of the most marginalized groups- including poor rural women and men- are fully represented.
The government-working group stated that African governments have the power and leverage to negotiate from a position of strength in choosing desirable investments that promote more inclusive and gender-equitable development. For instance, governments can facilitate multi-stakeholder interactions through the creation of specific business clusters relevant for rural women; adopt regulations to ensure that women are represented in producers' organizations and decision-making bodies; and promote extension services tailored to women's needs so that they can profit from arising business opportunities'.
Private enterprise representatives recognized that engaging women in their business is not always straightforward. It was highlighted that specific measures to promote women´s participation are frequently needed, including developing products and services that take women's needs and constraints into account; adopting innovative ways to circumvent gender-based constraints to participation (e.g. financing mechanisms that do not require land as collateral); providing facilities and adopting measures to support women's participation (e.g. crèche, flexible working hours); reaching out to partners who can support private enterprises to engage more women; and increasing women's participation at the contracting level as front line people, among others.
The recommendations and conference-related publications will be widely disseminated at relevant events worldwide such as the Kilimanjaro rural women's summit (April 2015), Principles for Responsible Agricultural Investments negotiation process (CFS- RAI) (May 2014), Pan African Parliament seminar on making agricultural investment work for Africa in Johannesburg (June 2014) and a continental conference on land policy organized by the AU (November 2014).
"We expect this conference to be a first step towards creating a multi-stakeholder platform where knowledge, lessons learned, good practices and promising approaches on agriculture investments, gender and land can be continuously shared and discussed and also, where partnerships can be fostered" said Martha Osorio, FAO Gender and Rural Development Officer.
(All photos © AGLIA Conference Cape Town  2014)
For further information please contact martha.osorio@fao.org