Dynamics of change in cocoa enterprise in Ile-Oluji, Nigeria
Cocoa production in Ile-Oluji is among the highest in Ondo State, Nigeria. However, this once prosperous crop – vital for the livelihood of farmers and their families – is under threat due to an increase of cash crops, a lack of youth involvement, and poor infrastructure and amenities. APRA researcher Oluwasegun Ajetunmobi investigates the dynamics of change of cocoa industry in the town, and looks at the way forward.
---
Written by Oluwasegun Ajetunmobi      
---
Our tour guard exclaimed 'Ogu gu ni so, igi aje re!' These words, translated from Yoruba as 'here it is, the tree of wealth', express excitement and certainty among many natives in Ondo state. It is connected to the prosperity brought by cocoa farming to the town before the collapse of the cocoa board in 1986. For many, cocoa is, to many, the tree that created wealth for people. But this narrative is changing. Ile Oluji, a town in Ondo State, is in one of the top cocoa producing local government areas in the state. However, the instability of cocoa farming means that its vibrant position in the core of the industry is now under threat.
Cocoa was not just a crop in Ile-Oluji, it was integral to life and livelihoods. It guaranteed that farmers could earn a living, feed their children and sponsor their education, as well as other responsibilities. However, from the information gathered during our visits to Ile-Oluji for the APRA work stream 2 study, it is evident that this is no longer the case. Palm oil rivals cocoa and/or distracts most cocoa farmers and reduces the long-standing presence of cocoa in the communities we visited. There are also fewer locals, including youth, on many farms. This, alongside poor infrastructure (basic amenities) and lack of farm equipment are the leading factors of the decline of cocoa enterprise in Ile-Oluji.

What could be wrong?
In an interview with two young men who produce oil palm, next to a cocoa farm, oil palm produce seemed to be very popular within the town.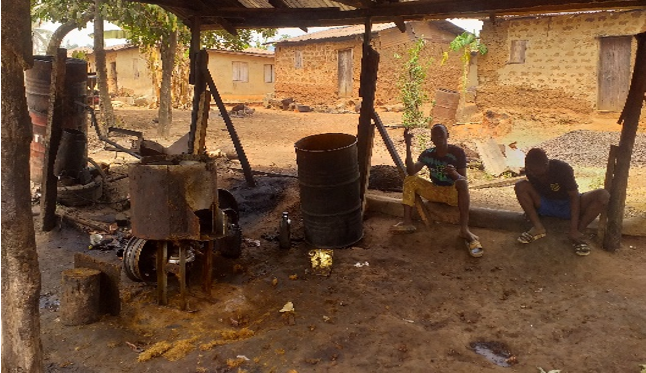 "We produce good palm oil in this village, and we produce in large quantity. There are lots of processing machines in the village"

– Oil palm producers at Oluwanisola, Ile-Oluji. Photo credit: Oluwasegun Ajetunmobi/APRA Nigeria WS2
In addition to this palm oil production site, several other ones were observed as we moved through various farm settlements.
Again, we observed a substantial increase in other cash crops like kolanut in the villages visited. This is reflective of the downturn of cocoa production in Ile-Oluji. Although the diversification to palm were mostly done by migrants who make extra cash from such production, it is an indication of how cocoa enterprise has dwindled over the last few years in Ile-Oluji. These migrants originate from across Nigeria, Benin Republic and Togo.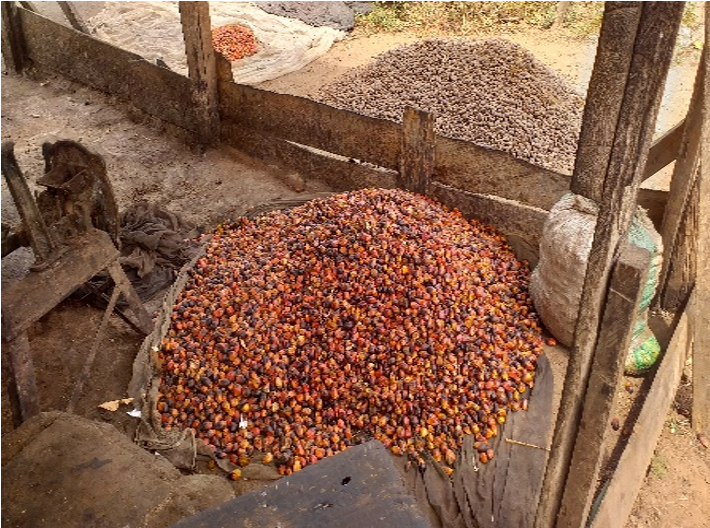 The changing pattern in cocoa production in Ile-Oluji is also visible in the number and demographics of indigenous farmers present on various farm settlements, who were mostly middle age and elderly. They complained that most locals, youth in particular, no longer cultivate cocoa. This was attributed to making quick money through internet fraud or daily jobs like transporting goods and people on 'okada' bikes. A close observation at Kajola in Ile-Oluji indicated a decrease of indigenes growing cocoa. At Olatiri and Ile-Oluji, there were locals on the farm. However, they prefer to rent out the farm and for additional income, and avoid going to farm because of the stress involved in cocoa farming.
Pests and disease are further reasons for a downturn in cocoa production, leading to many cocoa trees to be damaged. However, farmers lack support to obtain pesticides to combat this. While the cocoa trees on many farms in Ile-Oluji are aging, the impact of pests and diseases are demoralising for the farmers. Production will continue to fall in the town if farmers do not get chemicals and the modern equipment such as motorised pruner and slashers to combat pests, unwanted plants and diseases. Also, a gradual replacement of old trees with new saplings could help to rejuvenate the cocoa sector in this region.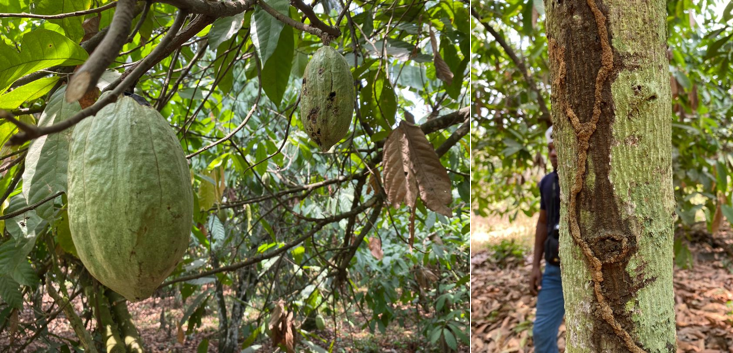 A lack of basic amenities on many farms leads to terrible living conditions and a very low quality of life. Many aren't connected to the electricity grid and lack clean water, primary health care centres, adequate roads, and basic education centres for children. The scarcity of these amenities heavily impacts the living standards of farmers and make them more susceptible to hardship. Many farmers do not encourage the youth to farm because of the absence of these amenities, despite paying taxes and tributes to traditional leaders.

Way forward
While cocoa farming is losing its foothold in one of the most prominent cocoa towns, the market for cocoa continues to increase. The chocolate business makes over 100 billion dollars every year, demonstrating that cocoa is still a lucrative crop. A solution to the changing dynamics of the cocoa business in places such as this is imperative. If the right resources are channelled to cocoa farming in Ile-Oluji, it is just a matter of time, the 'igi aje' will bring wealth and prosperity
---
Cover photo: 'Igi aje'cocoa tree. Credit: Oluwasegun Ajetunmobi/APRA Nigeria WS2
---
Please note: During this time of uncertainty caused by the #COVID19 pandemic, as for many at this time, some of our APRA work may well be affected but we aim to continue to post regular blogs and news updates on agricultural policy and research.