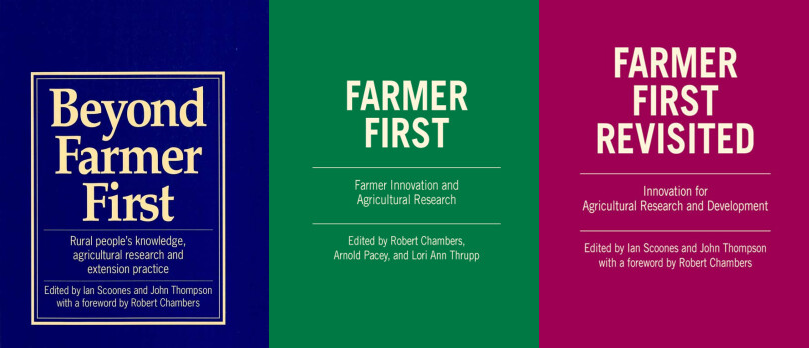 Written by: Robert Chambers, Ian Scoones and John Thompson
---
A focus on food must mean a focus on farming. And a focus on equity in food systems must encompass equity in agricultural systems.
---
As global food systems transform, generating increasing inequalities in access, we must ask how food is produced and by whom. Now all open access, the trio of 'Farmer First' books published between 1989 and 2009 explore these questions, making the case that we must put farmers first if more equitable, sustainable and productive food and farming systems are to be achieved.
It's nearly 35 years since the first Farmer First book was published, based on a conference held at the Institute of Development Studies (IDS). Much has changed in global food and farming systems since then. There has been a massive concentration of corporate control, the state has increasingly withdrawn from agricultural research and extension, technologies – from digital to biotechnology – have advanced significantly and concerns about the environmental consequences of industrial agriculture have grown. Yet today over a third of the food in the world continues to be produced by 600 million small-scale farming households, who remain central to rural livelihoods, despite on-going patterns of farm consolidation and urbanisation.
As pathways to food equity are envisioned, a focus on the millions of small-scale farmers and labourers across the world, both north and south, is essential. For this reason, the three Farmer First books and the main themes they address remain highly relevant to present day food and farming futures. Each book emerged from a conference convened by IDS and is an edited collection of topical reflections and cases, covering everything from farmer-led research on beans in Colombia, to the local characterisation of soils in Zambia, to sustainable land management in Australia to analyses of the national research and innovation system in India, and numerous other examples from every corner of the world. The authors are a mix of agricultural scientists, critical social scientists and field practitioners sharing emerging experiences of the participatory revolution in agricultural research and extension that spanned the late 1970s to the late 2000s.
The first book – Farmer First: Farmer Innovation and Agricultural Research – was edited by Robert Chambers, Arnold Pacey and Lori Ann-Thrupp and makes the case for challenging a 'transfer of technology' (ToT) approach to agricultural transformation. Contributors to the volume argued that top-down, science-led approach to technology transfer misses the knowledges, practices and experiences of farmers on the ground. The experience of the 'Green Revolution' in Asia and beyond showed that in 'complex, diverse and risk-prone' settings of the world a more adaptive, attuned approach to technology development is needed. This was the lesson of 'farmer participatory research', which became for a time a focus for important work across the international agricultural research system (the CGIAR) and within national agricultural research systems. Farmer-led breeding, participatory crop trials and farmer-led mapping and system diagramming all focused on getting farmers involved in technology development from the outset. This was not an argument against agricultural science, but for a new relationship between science and farmers, reversing power relations and hierarchies.
The second book – Beyond Farmer First: Rural People's Knowledge, Agricultural Research and Extension Practice – was edited by Ian Scoones and John Thompson, with a foreword by Robert Chambers, and came out in 1994 on the back of a collaborative, three-year research project led by the International Institute for Environment and Development (IIED) on 'rural people's knowledge' in agricultural research and extension. The starting point for this book was that if farmers were to be put first, then an interrogation of whose knowledge counts and how knowledge is constructed in the 'encounters' between farmers, researchers, extensionists and others was essential. Drawing on perspectives on the sociology of knowledge and anthropological insights into local agricultural knowledge, the book argued that a more sophisticated stance on knowledge for research and development (R&D) is required if farmers – and their knowledges – are genuinely to be put first. This required understanding rural knowledges on their own terms and seeking dialogue rather than simply hoping to document and extract 'indigenous technical knowledge' for an ultimately externally-driven technocratic project, even if dressed up in the language of 'participation'.
The third book – Farmer First Revisited: Innovation for Agricultural Research and Development – was again edited by Ian Scoones and John Thompson with a foreword by Robert Chambers. The focus was on agricultural innovation systems and the role of farmers within them. The conference and book emerged from work by the Future Agricultures Consortium (FAC) and ESRC STEPS Centre, which were hosted by IDS, and drew together many people working on 'agricultural innovation systems.' Revisiting the older debates about farmer participatory research, the contributors explored the wider context for innovation – not only in the context of state-led R&D efforts, but around wider networks linked to private sector actors who were increasingly significant in agricultural development by 2009 when the book was published. A focus on the politics of innovation and the way farmers (and labourers) were included or (too often) excluded from those processes is a strong theme of the book.
Together, the Farmer First trio of books provide an urgent call for changing the way agricultural R&D is thought about and practised. This call is as relevant today as it was in 1989, 1994 and 2009, even if the contexts and some of the policy issues of primary concern to the international community have changed. Connecting debates about pathways to food equity with a fundamental re-appraisal of production systems – including science, innovation, production practices, labour regimes, marketing networks and so on – and the role of small-scale farmers and farm workers at the centre of these remains absolutely vital.
Over this period, there has been a huge decline in publicly-supported agricultural R&D, both at the global level and within countries, while much philanthropic and aid agency support has focused on quick-fix technical solutions to global agricultural production problems. At the same time faith in the market and the private sector has grown, shifting the focus to delivery through increasingly corporate, large-scale solutions. As attention and funding has switched elsewhere, there has been a declining focus on basic questions of agricultural production since the Farmer First debates kicked off. Whether in research programmes or teaching curricula in 'development studies', questions of agricultural production and the role of small farms have all but disappeared.
As the world grapples with recurrent food crises and many people continue to go hungry, with challenges of agricultural production affected by climate change and other interlocking crises, the basic questions raised by the Farmer First books are as pertinent as ever. Small-scale farmers and labourers still feed large parts of the world, providing nutritious, environmentally sustainable options in ways that concentrated, polluting, industrial agriculture cannot.
As some of the facilitators – amongst many others – of the Farmer First debates over many years, we urge you to download and read the books, engage with the arguments and adapt, experiment and innovate wherever you work, always putting farmers first in the process of reimagining pathways to equitable and sustainable food and agricultural systems.
This post originally appeared on the IDS website.