Policy Briefs
The Policy Brief series was launched by Future Agricultures in 2005 to provide a forum for the analysis of important agriculture policy issues by leading researchers. The series aims to identify key issues, apply the best and most up-to-date research to help understand these issues, and explore the implications of this research for the design and conduct of policy. We typically publish between 8 to 10 Policy Briefs each year.
A significant number of our policy briefs are also translated into French.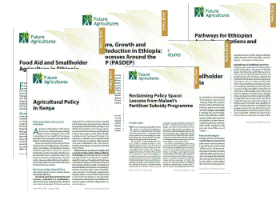 Latest articles
August 20, 2013 / Policy Briefs
FAC Policy Brief 59
by Ephraim W. Chirwa, Andrew R. Dorward and Mirriam Matita
July 2013
Considering the high incidence of poverty and food insecurity among Malawi's rural population, agricultural input subsidies can be seen in part as a social protection instrument, improving accessibility and availability of food for vulnerable groups. However, questions about the sustainability of the Farm Input Subsidy Programme (FISP) have been raised since its introduction in 2005/06. Some have argued that with limited public resources and other competing needs of development, subsidisation of farm inputs for a food staple may not be the best use of scarce resources, justifying calls for an exit strategy. Others, however, describe the subsidy as a good thing insofar as it addresses chronic food insecurity in Malawi and contributes to inclusive economic growth and poverty reduction.