Policy Briefs
The Policy Brief series was launched by Future Agricultures in 2005 to provide a forum for the analysis of important agriculture policy issues by leading researchers. The series aims to identify key issues, apply the best and most up-to-date research to help understand these issues, and explore the implications of this research for the design and conduct of policy. We typically publish between 8 to 10 Policy Briefs each year.
A significant number of our policy briefs are also translated into French.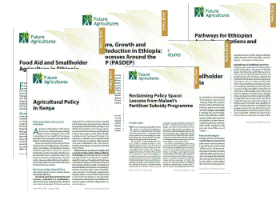 Latest articles
November 7, 2014 / Policy Briefs
Policy Brief 79
Henry Tugendhat
In recent years, three of the largest emerging powers, Brazil, China and India, have all brought about incredible agricultural revolutions and seeds have played a big part in that story. Nowadays, their seed markets are all within the world's top ten in terms of value and their companies are eager to expand into new markets, particularly in Africa. Their development cooperation agendas are already focused on facilitating these overseas moves, and they come with a strong narrative that these seed producers and technical experts can help bring about similar success for Africa. It remains to be seen how true this is; however, we can already identify and analyse certain trends in the technology and policy that each is transferring.
This policy brief examines the development and expansion of each country's seed industry and how it is engaging with African seed systems. An understanding of these trends matters primarily for the African farmers and policymakers engaging with these new flows, but it can also shed light on contrasts and opportunities for collaboration on seeds with the New Alliance for Food Security and Nutrition (NAFSN).